Friday, October 31st, 2008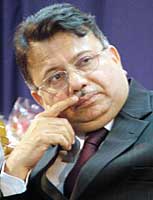 Hon'ble Chief Justice Ajit Prakash Shah
The Hindustan Times reported that the Collegium of judges in the Supreme Court had sent a recommendation to the Law Ministry that three judges i.e. the Chief justices of Madras, Patna and Kerala High Courts — Justices A.K. Ganguly, R.M. Lodha and H.L. Dattu be elevated to the Supreme Court.
However, this recommendation has raised a storm because it overlooks or supercedes three Chief Justices who are senior to the chosen three, viz. The Chief Justices of Delhi, Madhya Pradesh and Uttarakhand High Courts — Justices A.P. Shah, A.K. Patnaik and V.K. Gupta.
HT pointed out that the records showed that Justice Gupta became a High Court Judge in 1990 and was elevated to the post of Chief Justice in 2000. Justice Shah became a Judge in 1992 and a Chief Justice in 2005. Justice Patnaik became a Judge in 1994 and a Chief Justice in 2005.
In comparison, Justice Dattu became a Judge in 1995 and was elevated to the position of Chief Justice in 2007. Justice Ganguly was also made a Chief Justice last year. Justice Lodha became a Chief Justice only in May this year.
No reasons were apparently given by the Collegium for the supersession of the three senior judges though it was hinted that "performance" and "conduct" may have played a part.