Friday, August 29th, 2008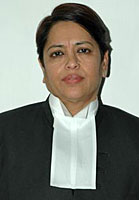 Hon'ble Justice Nirmal Yadav
The murky case of alleged bribe of Rs. 15 lakhs to ITAT Member – turned – Punjab & Harayana High Court Judge – Justice Nirmal Yadav will now be probed by a three judge panel.
Chief justice of India (CJI) KG Balakrishnan, has constituted a committee of three judges being Allahabad High Court Chief Justice Hemant Laxman Gokhale, J&K High Court Chief Justice KS Radhakrishnan and Justice Madan B Lokur of the Delhi High Court. Justice Gokhale will head the committee, which will investigate the corruption charges.
This is perhaps the first time the CJI has set up a committee to probe the role of a sitting High Court judge in a corruption case.
The case so far:
On 13th August, Additional Advocate General Sandeep Bansal, through his munshi Prakash Chand delivered a packet containing Rs 15 lakh in cash to the residence of Justice Ms. Nirmaljit Kaur, a Punjab and Haryana High Court judge.
The judge called the police.