Wednesday, August 27th, 2014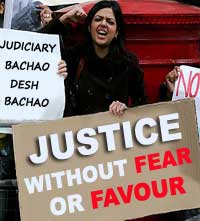 The author, an eminent Sr. Advocate and a champion of judicial integrity and independence, expresses grave apprehension that the National Judicial Appointments Commission Bill, 2014, which seeks to replace the present Collegium system of appointment of Judges by a Committee, comprised partly of politicians, will severely hamper the independence of the Judiciary. He reminds us that the Government is the biggest litigant in the Country and warns that Judges may feel apprehensive of taking bold decisions against the Government in the fear that their chances of promotion to the higher Court would be jeopardized. The author also argues that the present Collegium system is working well and the few defects in it can be rectified. He offers practical suggestions on how this can be done.
One of the objects of the All India Federation of Tax Practitioners (the Federation) is "To strive and work for independence of Honourable Courts–". The Tax Bar has always played a paramount role in warding off threats to the independence of the Judiciary. It was due to the labours of the Tax Bar that the independence of the Income-tax Appellate Tribunal (ITAT) could be preserved [Ajay Gandhi v. B.Singh (2004) 265 ITR 451(SC), ITAT v.V.K.Agarwal (1999) 235 ITR 175 (SC)].