Sunday, August 23rd, 2009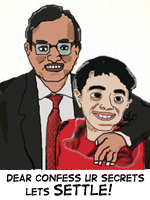 The author slams the Government for trying to scuttle a settlement mechanism, designed to reform astray-taxpayers. He lauds the Bombay High Court for reading down the ill-conceived amendments and exhorts the Government to accept the same in the right spirit. The author also uses his rich experience to set out a road map for speedy disposal of settlement applications.
Income Tax Settlement Commission (ITSC) was formed on recommendation of Wanchoo Committee in the year 1976 for settlement of income tax cases. Having created an institution for reform of tax payer who has gone astray, constant effort of the executive was to scuttle its working. May be the idea, to settle rather than to dispute, was before its time in the year 1976; by Finance (No. 2) Act, 2009, provisions have been exacted for constitution of Dispute Resolution Panel.
By Finance Act 2007, a final death blow was dealt to the institution of ITSC by providing that in respect of applications filed before 1-6-2007, if an order of final settlement under section 245D(4) is not passed before 31-3-2008, than the proceedings before the ITSC shall abate and departmental officer shall dispose off the case.