Saturday, June 20th, 2009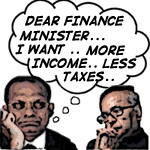 The author puts on his thinking cap and conjures up a 10-point wish-list of conceptual changes that need to brought about in the tax policy to ensure effective compliance. He also uses his vast experience in the field of tax laws to identify specific loop holes and suggests measures to plug the same.
Every year the Hon'ble Finance Minister interacts with representatives of industries. Representative of each industry appeals to the Hon'ble Finance Minister to give concession in rate of tax and incentive to their industry. However, we are not aware of any representation from any industry to raise the tax base, simplify the tax law and humanise the tax administration. My experience shows that it is the tax professionals, who make the representation objectively without any favour or fear. Earlier the Member Legislation of Central Board of Direct Taxes used to visit Mumbai before the Finance Bill and after introduction of Finance Bill and discuss with the professional organisations to ascertain their views on various issues and provisions. We hope this tradition of interacting with voluntary organisations will be resumed to common good. One of the duties of the tax professionals is to make representation for better tax law and responsive administration. The suggestions herein, therefore, are made in three parts and deal with the issues that engage us viz.
(A) Conceptual (B) Specific and (C) Increase of Tax Base.