Wednesday, February 25th, 2009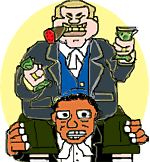 The author endorses the stand of the Swadeshi Brigade and argues that while Indian lawyers can easily tackle the stiff competition put up by the foreign lawyers, their sense of values, tradition and ethics will be compromised by the business-like approach of such lawyers.
Joining the intense debate over the opening of legal services on which the country's legal fraternity is divided, Hon'ble Chief Justice of India Shri K. G. Balakrishnan has said foreign law firms may be allowed to practise in India on a reciprocal basis.
"They (foreign based Law firms) could only be allowed entry here if they do the same for us. It has to be on the basis of reciprocity", Hon'ble Chief Justice told PTI in an interview. His Lordship said the debate over allowing foreign-based law firms was on for a long time but "until and unless other countries open the field for our lawyers, they cannot be given entry".
According to his Lordship unilateral permission to allow foreign lawyers practise in India would not be a wise step. "How could you allow them when you are not permitted to work in their country?" the CJI questioned. Speaking on the issue, Union Law Minister Mr. H. R. Bhardwaj had said Indian lawyer would gain with the opening of the legal sector to foreign companies.