Saturday, January 19th, 2008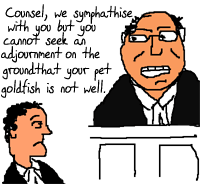 There is a popular commercial by a furniture maker running on television which uses a courtroom as the setting to demonstrate the long-lasting abilities of its plywood. Two young lawyers are arguing a matter about a buffalo which apparently caused damages to the Plaintiff, prompting him to seek damages from the owner of the buffalo. The Respondent's demand is that the buffalo, being the alleged culprit, must be produced in court as a witness, leading to an uproar in the court and prompting the judge to adjourn the matter. Months turn to years and decades go by and the lawyers and the judge, now sprightly octogenarians, are still at the same stage at which they were at the beginning of the case. The plywood table stands mute spectator to the going-ons in the court room with the voice-over saying tongue-in-cheek "Chalta Rahe, Chalta Rahe" (It goes on and on).
Real-life court room business is, however, unfortunately, not as humourous as in the commercial and the gross delay in the disposal of matters is not a matter to be taken lightly. Matters reached a head a few days ago in the High Court when repeated adjournments sought by the lawyers prompted a sharp rebuke from the Hon'ble Chief Justice.