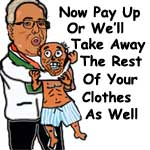 The author expresses concern over the proposal of the Income-tax department to launch prosecution proceedings against taxpayers without waiting for the outcome of the appeals filed by them. He argues that this proposal is ill-advised and will result in grave miscarriage of justice
In recent days, some assessees have received the show cause notices for launching of the prosecution as soon as the penalty is confirmed by the Tribunal.
With respect, mere confirmation of penalty by the Tribunal cannot be a ground to initiate prosecution proceedings. Assessee may otherwise be filing returns regularly and paying the taxes and only in one year, unable to substantiate the claim of deduction. Can such an assessee be considered as tax evader?
Many times penalties are confirmed because the facts are not properly presented before the tax authorities and the appellate authorities. Read more ›