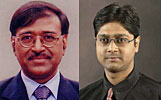 Law on Taxability of Gifts: A Comprehensive Analysis
Narayan Jain & Deepak Jain, Advocates
The law on taxation of gifts as embodied in clauses (v) to (viia) of s. 56(2) has wide ramifications and given rise to numerous controversies. The authors have meticulously analyzed the law, identified the problem areas and provided comprehensive answers, supported by extensive reference to landmark judgements.
1. Hitherto provisions relating to gifts:

Up to September, 1998 any amount received without consideration was taxable as gift under Gift Tax Act. From October, 1998 to August, 2004 any amount received as gift or without consideration no tax was leviable either for giver or receiver.
Thereafter, in Section 56(2), a Clause (v) was inserted vide Finance (No.2) Act, 2004 to provide that a sum of money exceeding Rs.25,000 received by an individual or HUF from any person after 01.09.2004 without consideration will be deemed to be income. In this provision amount was chargeable only if a single receipt was more than Rs.25,000. Hence, gifts became legalized as before this it was always debatable and issue before A.O. was that whether particular amount is gift or unexplained credit by the assessee in the form of gift. Such sums of money received as gifts, other than those in circumstances covered in exceptions in section 56(2), are to be treated as income from other sources. Such sum will not be treated as income from other sources if such receipt falls in those exceptions.
Amount received from any relative, as defined in explanation to section 56(2)(v)/(vi) is also not chargeable to tax.